Court Says Pay Past-Due Pension Contributions – But How?
By Bill Kossler,
March 22, 2018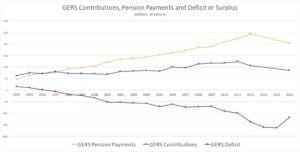 The Government Employee Retirement System has won a court order directing the V.I. government to make the pension system whole, but it is unclear if the government can make those payments and also pay its other bills.
If payments occur as mandated, the system will still go bust by 2023. If they are not made, the system could cease being able to pay full pension checks by 2020 or sooner, according to both GERS and outside estimates.
Faced with an intractable budget shortfall and an inability to borrow, Gov. Kenneth Mapp's administration began routinely missing its regular employee and employer contributions to the pension plan in December of 2016. It has only made sporadic contributions since then and is now tens of millions of dollars behind.
At a January legislative hearing, GERS officials put the short-term delinquency at more than $40 million. The system as a whole has a total unfunded liability in excess of $3 billion.
GERS filed a motion in 2016, asking the court to enforce a 1981 consent decree requiring the V.I. government to pay its regular, mandated pension contributions.
"Virtually since inception, the Government has regularly failed to adequately fund the system as required … Consequently, in 1981, GERS was forced to bring an action requiring the payment of the necessary appropriations to provide adequate funding to the GERS Fund," GERS officials say in the motion to enforce the decades-old court order.
On March 14, U.S. District Court Judge Curtis Gomez granted GERS' motion and gave both sides until March 20 to file proposed solutions to the shortfall.
The government proposed paying past due contributions over the course of four months.
"This plan was carefully considered and made after a thorough assessment of the projected cash flow, expenses and revenue projections over the next four months," the government says in its proposal.
Paying over time would mean GERS loses the investment value of those funds, but that would partially be made up through interest on the past-due amounts. It would also make GERS rely on the government to continue to pay, even if some other fiscal emergency crops up.
GERS, meanwhile, proposed two potential solutions.
One, the V.I. government could ask the federal government for permission to use a portion of any federal disaster assistance grants or loans to pay past due contributions. The government would also set aside four months worth of contributions "as a guarantee against future delinquent contributions."
This solution would require actions that are outside of the V.I. government's control. It requires the federal government to devote disaster recovery funds to a pension shortfall that predates last fall's storms.
Alternatively, GERS proposes the government pay the pension system first, "without regard to the source or prior commitment to any other matter … ."
This would mean that paying GERS would come before any other spending, which could force sharp cuts that cause harm in other areas.
For example, dozens of V.I. charities and nonprofit organizations that serve the elderly, children, the disabled and the homeless were unfunded this year due to revenue shortfalls. This week, Gov. Kenneth Mapp said he was going to direct the government to make at least some payment to those organizations.
Under the GERS proposal, Mapp might be unable to do so.
The government is also behind in paying Human Services contractors at homes for the elderly, paying contractors to run the territory's two landfills, paying for streetlights and for government utility bills, among other things. The GERS proposal could mean not paying those entities.
In a worst-case scenario, it could force the government to pay GERS before it pays government payroll or the government's lenders.
The court has not yet determined which of the competing proposals it will select, if either.
Even if the past-due payments are made, the system will still collapse soon.
GERS officials say in their filing that "without a sharp reduction in benefits immediately … at the current rate of contributions, the system will support only 40 percent" of benefits into the future.
To maintain benefits at their current level would require contributions of 77.39 percent of total payroll, according to GERS' court filing.